The symposium is sponsored by Chinese Academy of Sciences (CAS), Institute of Geology and Geophysics, Chinese Academy of Sciences (IGG, CAS), National Natural Science Foundation of China (NSFC), Geophysical Exploration Center, China Earthquake Administration (GEC, CEA), SinoProbe – Deep Exploration Technology and Experimentation, International Association of Seismology and Physics of the Earth's Interior (IASPEI), International Geological Correlation Programme (IGCP), and State Key Laboratory of Lithospheric Evolution. SEISMIX meetings are biennial events that provide opportunities for seismologists and related specialists from all continents to meet together to discuss advances in seismic profiling acquisition, processing, interpretation and data integration and usage since the first meeting took place in 1984 at Cornell University, New York, USA. We invite you to participate and contribute to SEISMIX 2012.
The dates for SEISMIX 2012 are 16th September to 25th September 2012 inclusive. A post Symposium Excursion will occur immediately after the symposium, running from Saturday
The location for SEISMIX 2012 is Beijing China.

Beijing, the capital of China, is an ancient city with a long history of 3000 years. The long history leaves Beijing lots of precious cultural treasures, including the Great Wall, Summer Palace, Forbidden City, Tiantan, ect., that have already been well-known to the world. However, the authentic old Beijing life is probably best represented by its many teahouses, temple fairs, Hutongs and square courtyards, the Peking Opera and the different styles of Chinese cuisine. Now Beijing is a modern and fashionable city complete with a full 21st Century vitality, similar to other great metropolis elsewhere in today's world. Particularly, the success of the 2008 Beijing Summer Olympic Games has brought great changes to Beijing, strengthening its international status in the world.
Hotel:JINGZHIHU Holiday Hotel
The hotel has more than 100 well-equipped rooms and suites and has successfully blended a classical design with modern facilities. The luxurious executive rooms and luxurious villa are tailored to meet the needs of those that like a little extra pampering and will offer you high-grade services and enjoyment.
As in previous SEISMIX meetings we will organize the meeting into one session without any parallel sessions. Previous experience from SEISMIX meetings tells that this encourages discussions. Posters are an important component of the meeting. We invite both oral and poster presentations. It is recommended that you prepare your oral presentation also into a poster to obtain the maximum attention to your results. The conference topics will include (but are not strictly limited to):
Passive continental margins
Active continental margins and subduction structures
Intra-continental collision and accretion
Continental rifts and basins
The continental mantle
Innovative seismic acquisition and processing techniques
Numerical modelling and inverse methods in seismology
Integrated multidisciplinary case studies
Institute of Geology and Geophysics, Chinese Academy of Sciences, will publish the abstract volume in its Records series in order to ensure that authors have a citeable and enduring reference for tracking purposes. The symposium abstract volume will be produced prior to the Symposium and distributed to the participants on arrival at registration.
Abstract Submission
The Symposium venue is equipped with a digital computer projector for oral presentations (e.g. Powerpoint, PDF) and an overhead projector. A separate room is available for poster presentations.
Oral presentations
Each oral presentation requires an abstract. Abstracts specifications are similar to previous symposium requirements. Abstract submission is via web submission.
Poster Presentations
The size of the poster board is 1.0m wide x 2.0m high. Please prepare posters to fit this space. Each poster requires an abstract.
Abstract submission deadline is the 16th May, 2012. Please submit your abstract using the Abstract Submission Form.
The early-bird registration fee is US$ 800 up until the 16th May, 2012, after which registration is US$ 900. For graduate and post-graduate students the fee is US$ 500. The one day fee is US$ 550.
On-line registration will be available until the 8th August, 2012. After that payment is only possible at the Symposium site. If you cannot register before that or find you can attend at the last minute we are happy to accept you; however please send us an email as soon as possible so we can prepare.
Payment options only include Bank transfer now. You will receive detailed information by e-mail after your registration is submitted.
Symposium Registration fees are:
| | |
| --- | --- |
| Symposium Registration fees are: | |
| On-line registration before 16th May, 2012 | US$ 800 |
| On-line registration after 16th May, 2012 | US$ 900 |
| On-line registration before 16th May, 2012 (student) | US$ 500 |
| On-line registration after 16th May, 2012 (student) | US$ 550 |
As to the coverage of registration fee,it covers: icebreak,dining,refreshments,accomodation for 5 nights,shuttle from airport to hotel.
To register, please complete the Symposium Registration Form
IGCP559 and Sinoprobe are kind to support students through the provision of a discount to their registration costs. Students who are interested should complete a student sponsorship application and return it by e-mail to zhangzj@mail.iggcas.ac.cn. The application should include also the name and e-mail address of the supervisor who recommends the applicant.
To apply for student sponsorship please complete the sponsorship form:
Full registration fees will only be refunded if the notice of cancellation is received before 16th May, 2012.
Full post-symposium excursion fees will only be refunded if the notice of cancellation is received before 16th May, 2012.
There is no refund after the 8th August, 2012.
Refunds between the 16th May, 2012 and the 8th August, 2012 will be prorated.
The post-symposium excursion will start on Friday morning, September 21 from the Jingzhihu Hotel, Beijing, and will finish in Chengdu, the capital city of Sichuan Province on Tuesday, September 25. As the biggest international airport in Southwest China, Chengdu Shuangliu International Airport may have airlines to your country directly. So, if you would like to join the excursion, please have an attention that the terminal city of this trip is Chengdu, Sichuan Province, China, when you book your return flight ticket.
With financial support from National Nature Sciences Foundation of China (NSFC) and Chinese Academy of Sciences (CAS), the excursion fee is 1000 USD per person and it covers field guide, transportations (Beijing-Yichang-Chengdu), hotel accommodation in double rooms and meals.
The excursion is not physically demanding, however good walking shoes and spare rain-proof will make it more enjoyable.
We can accept a minimum of 15 but a maximum of 35 participants on the excursion. So we will apply the "first-come-first-served" principle for booking; and the excursion may be canceled if the number of participants does not up to 15. Because the flight from Beijing to Yichang, Hubei Province and the high-class ship thru Three Gorges are limited on one day, we need participant's Passport Information (Full name, Sex, Nationality, and Passport Number) to book tickets in advance. If you would like to join the excursion, it is necessary to inform us your passport information before Friday, July 27, 2012.
On the excursion you will have chance to get an overview of the geology, geomorphology, nature and culture of the Yangtze Three Gorges and the eastern margin of Tibetan Plateau by the almost ergodic trip from the 2nd to the 3rd topography platform in China.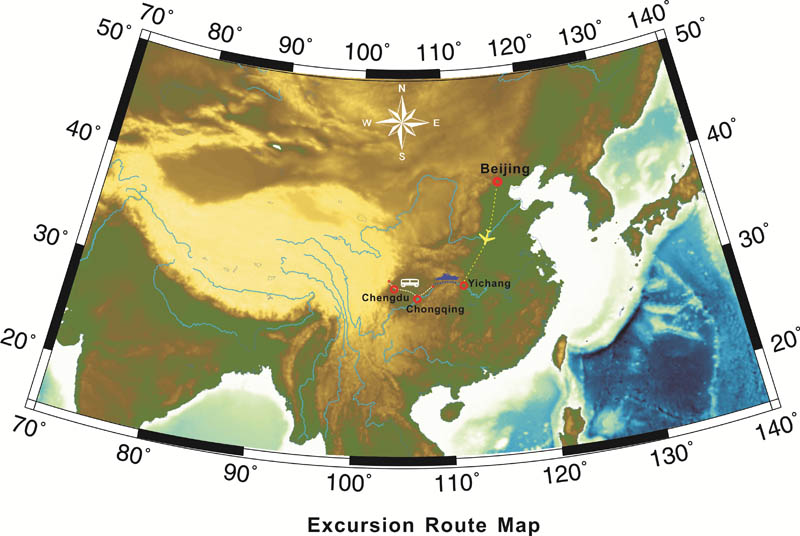 The Three Gorges is located in the Yangtze fold belt, a transition zone between Sichuan Basin and Middle and Lower Yangtze Plain. The local geology contains igneous and metamorphic rocks that range in age from Archean through to Late Proterozoic, and the oldest rocks are gneissic trondjhemites of Archean age that outcrop within the Huangling anticline. An active-source wide-angle reflection/refraction profile through Three Gorges was carried out by the Institute of Dynamic Deformation and the Institute of Geophysics, China Earthquake Administration (CEA) in 1988, and the seismic data was reinterpreted lately (Zhang et al., Tectonophysics, 2007).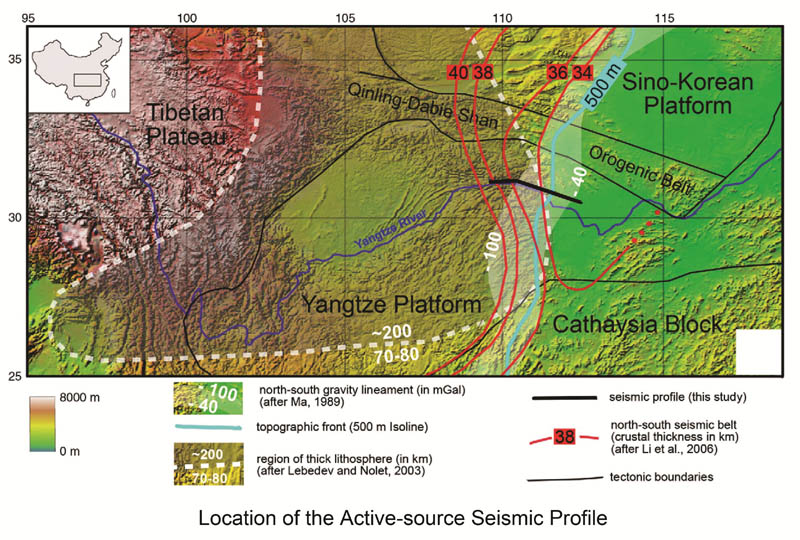 The eastern margin of Tibetan Plateau is located to the western most of Yangtze platform, a transition zone between East Tibet and Sichuan Basin, which featured with the Longmen Shan fold-and-thrust belt and the Ms 8.0 Wenchuan earthquake rupture zone on May 12, 2008. In order to study the nature of the collision occurring between the Tibetan Plateau and Sichuan Basin lithospheres, a passive-source broad band seismic array was deployed by the Institute of Geology and Geophysics, Chinese Academy of Sciences (CAS) between August 2006 and July 2007 (Zhang et al. Geophys. Res. Letts., 2009; Zhang et al., Earth Planet. Sci. Letts, 2010).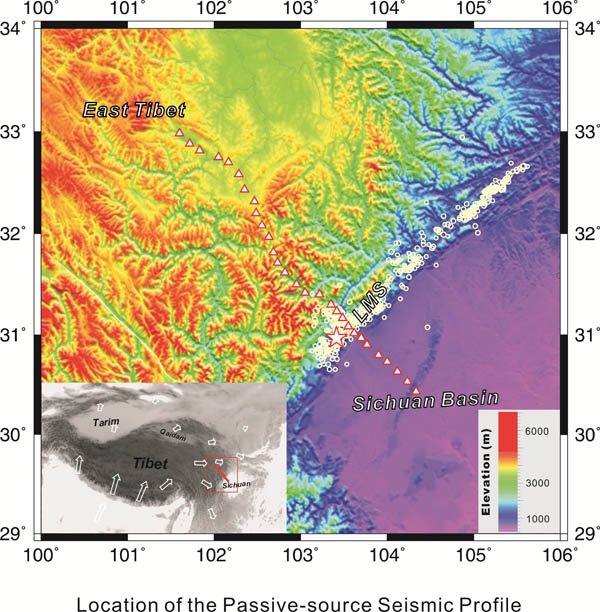 Click here to view the Preliminary Excursion Program
All previous meetings have resulted in proceedings issues in international journals, and we intend to continue this tradition. We plan to offer a selection of articles from SEISMIX2012 for publication as a special issue of Tectonophysics. We plan that the deadline of manuscript submission would be August 12th, 2012. We would appreciate your early expression of interest of contributing in this publication. We will compile a preliminary list of contributions for the publisher.
Symposium Committee
The 15th International Symposium on Deep Seismic Profiling of the Continents and Their Margins (SEISMIX 2012)
Sponsors: Chinese Academy of Sciences (CAS)
Institute of Geology and Geophysics, Chinese Academy of Sciences (IGG, CAS)
National Natural Science Foundation of China (NSFC)
Geophysical Exploration Center, China Earthquake Administration (GEC, CEA)
SinoProbe – Deep Exploration Technology and Experimentation
International Association of Seismology and Physics of the Earth's Interior (IASPEI)
International Geological Correlation Programme (IGCP)
State Key Laboratory of Lithospheric Evolution
Organizer: Institute of Geology and Geophysics, Chinese Academy of Sciences (IGG, CAS)
Chairman: Ji-Wen Teng, academician of CAS
Executive Chairman: Zhong-Jie Zhang, Prof. of IGG, CAS
Organizing Committee Members:
Prof. Wei-Ming Fan, the chief of Bureau of Science and Technology for Resource and Environment, CAS
Prof. Xu Chang, the deputy director general of Bureau of Science and Technology for Resource and Environment, CAS
Academician of CAS, Ri-Xiang Zhu, the chief of Institute of Geology and Geophysics, CAS
Prof. Yu-Cheng Chai, National Natural Science Foundation of China
Prof. Sheng Yu, National Natural Science Foundation of China
Academician of CAS, Wen-Jin Zhao, Chinese Academy of Geological Sciences
Prof. Shu-Wen Dong, Chinese Academy of Geological Sciences
Academician of CAS, Wen-Cai Yang, Institute of Geology, Chinese Academy of Geological Sciences
Prof. Rui Gao, Institute of Geology, Chinese Academy of Geological Sciences
Academician of CAS, Rong-Sheng Zeng, Institute of Geophysics, China Earthquake Administration
Prof. Chun-Yong Wang, Institute of Geophysics, China Earthquake Administration
Prof. Xian-Kang Zhang, Geophysical Exploration Center, China Earthquake Administration
Prof. Fu-Yun Wang, Geophysical Exploration Center, China Earthquake Administration

Chinese Academy of Sciences (CAS)

Institute of Geology and Geophysics, Chinese Academy of Sciences (IGG, CAS)

National Natural Science Foundation of China (NSFC)

Geophysical Exploration Center, China Earthquake Administration (GEC, CEA)

SinoProbe – Deep Exploration Technology and Experimentation

International Association of Seismology and Physics of the Earth's Interior (IASPEI)

International Geoscience Programme (IGCP)

State Key Laboratory of Lithospheric Evolution